Plates And Dumbbells
Troy Barbell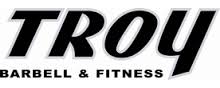 For more than 20 years Troy Barbell has been the industry leader in quality and innovation.

More than just a free-weight manufacturer, Troy Barbell is a full-service solution.

With 3 distinct product lines,Troy offers the best solution for every application:
Troy- Engineered to offer unmatched aesthetics and durability Troy is
the premium institutional & commercial grade free-weight product.
VTX- Rugged quality designed for vertical, specialty fitness and functional
training applications.
USA- Dedicated to providing best-in class products for the home fitness enthusiast.
Whether you're looking to outfit a gym, apartment, school or home, Troy delivers stylish durability and value with three distinct product lines each uniquely engineered for your specific application.