Plates And Dumbbells
Troy Barbell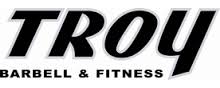 For more than 20 years Troy Barbell has been the industry leader in quality and innovation.

More than just a free-weight manufacturer, Troy Barbell is a full-service solution.

With 3 distinct product lines,Troy offers the best solution for every application:
Troy- Engineered to offer unmatched aesthetics and durability Troy is
the premium institutional & commercial grade free-weight product.
VTX- Rugged quality designed for vertical, specialty fitness and functional
training applications.
USA- Dedicated to providing best-in class products for the home fitness enthusiast.
Whether you're looking to outfit a gym, apartment, school or home, Troy delivers stylish durability and value with three distinct product lines each uniquely engineered for your specific application.
Call for availability!

The rubber encased TROY pro style dumbbells are all pre-assembled to ensure that they meet the standards required in heavy use commercial applications.

Call for availability!

Our stylish 12 sided Solid Steel, Polyurethane encased dumbbells represent the best in class, commercial grade product of its kind being manufactured today.